---
Countdown to the 2017 National Convention
(6/22/17 to 6/25/17 - Houston, Texas)
Congratulations to our Latest Scholarship Recipients!
Mboho Ndito Ibibio, Isongo!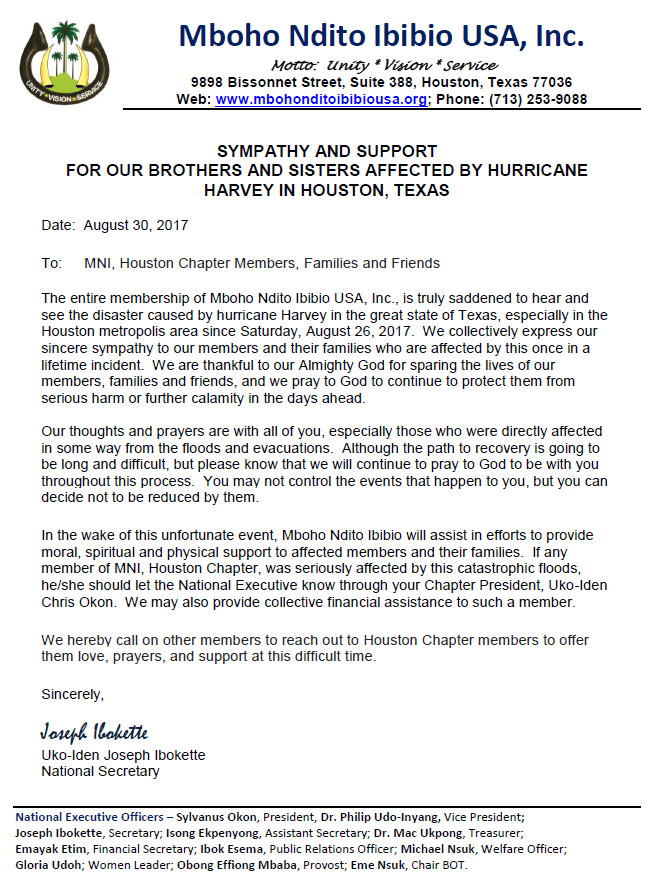 ---
---
COMMUNIQUE FROM THE 2nd ANNUAL NATIONAL CONVENTION Held on June 23-25, 2017 in Houston, Texas
(Posted: July 9, 2017)

Mboho Ndito Ibibio USA, Inc. (MNI) is a non-profit 501C3 organization of select indigenes of Ibibio tribe of Akwa Ibom State of Nigeria residing in the United States of America, who solemnly and firmly resolve to live in peace, unity and harmony as members of Mboho Ndito Ibibio USA, Inc. for the promotion of unity, love, service and progress among the entire Ibibio people.

Continue Reading >> (PDF).

---
2017 2nd Annual National Convention Photos & Videos
(Posted: June 27, 2017)

This year's convention took place in Houston, Texas. It was a blast and you missed a lot if you didn't attend.

In attendance from Nigeria was Edidem Edet Akpan Inyang, Paramount Ruler of Itu Local Government in Akwa Ibom state of Nigeria and Secretary of Ifim Ikpaisong Ibibio Nation. Other guests were Obong Barrister, Udo George, President, Esop Ndito Essien Ibibio, Hon. Emmanuel Obot, former member, House of Representatives, Nigeria.

Browse our photo gallery for photos and videos from this historic event and other events in general...

---